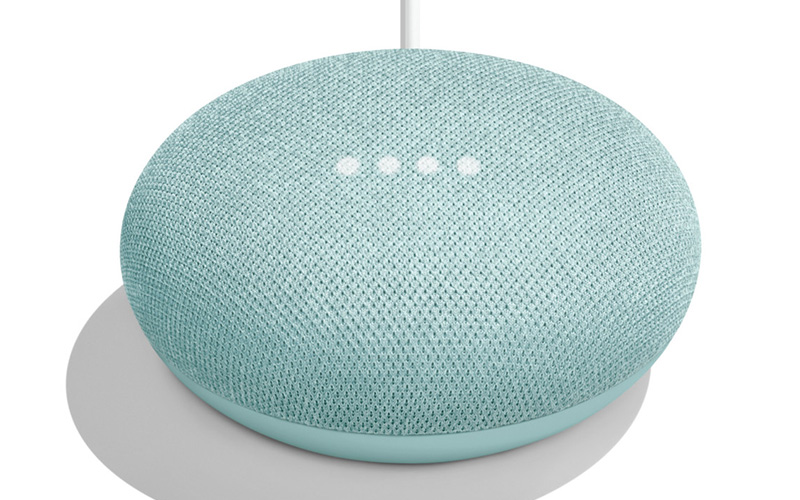 Within a year of its launch in 2017, the Google Home Mini has become the best-selling smart speaker in the world. And now Google has announced an aqua colour option for its Google Home Mini lineup. Stating the obvious, the search giant took the opportunity to roast Amazon, by saying that consumers want their devices to blend into their homes instead of being an eyesore, referring to the recently launched third generation Echo Dot.
Brighten Up Your Crib With The Blue-Green Google Home Mini
While Google is all for creating technology that blends into your home easily, the company also wants to ensure that its products follow a design language that is synonymous with its brand. That's why you may never see certain loud colours such as dark green. Prior to this, the smart speaker was available in the colours charcoal, coral, and chalk. The compact smart speaker has a mesh exterior and gets its smarts from the baked in Google Assistant. It could be a nifty addition to your house, enabling you to send messages, stay on top of your calendar, and do many other things
The new aqua version of the smart speaker will retail for Rs. 3,703, and it can be bought from the Google Store and Walmart from October 29. Since the Google Home Mini is available in India, we can hope the new colour option will also be available soon.
Google Continues to Dominate The Smart Speakers Market
According to a Strategy Analytics report, the Google Home Mini was the most popular smart speaker in the world in the second quarter of 2018, followed by Amazon's Echo Dot. Together, these two have captured a global market share of 38 percent. This was echoed by Canalys, according to which Alibaba and Xiaomi take the third and fourth spot respectively in the smart speaker sales. Because of their price-friendliness, the compact Google Home Mini has a larger market share than the bigger Google Home (review) too. From being a search engine provider to making smartphones, cameras, and smart speakers, Google has really come a long way as depicted in the video below:
Buying options
Amazon Echo Dot
₹3,499
Go to Store
Samsung Guru Music 2
₹1,625
Go to Store
Lava A52
₹2,699
Go to Store
Nokia 216 Dual SIM
₹2,399
Go to Store
Micromax Canvas Spark 4G
₹4,099
Go to Store
Nokia 3310
₹3,310
Go to Store
Nokia 150
₹1,950
Go to Store
Jio Phone
₹1,500
Go to Store
Algolia Custom Site Search