Google LLC is stepping up its efforts to make its artificial intelligence technology more accessible to businesses across a range of industries.
The internet giant has already made some big steps in this direction. Earlier this year it introduced a new service called AutoML that businesses with limited knowledge of AI can use to build their own custom machine learning models. Google also provides resources such as its Advanced Solutions Lab, which offers onsite collaboration with Google's own machine learning engineers.
In a blog post, Google's director of product management for Cloud AI, Rajen Sheth, said that although the company now has more than 15,000 paying customers using its AI services, it's not enough.
"Our goal is to put AI in reach of all businesses," Sheth wrote. "But doing that means lowering the barriers to entry. That's why we build all our AI offerings with three ideas in mind: make them simple, so more enterprises can adopt them, make them useful to the widest range of organizations, and make them fast, so businesses can iterate and succeed more quickly."
To that end, Google is today launching what it calls the "AI Hub," which is essentially a comprehensive one-stop shop for all of Google's machine learning tools and resources.
Currently available in Alpha, the AI Hub is home to "plug-and-play ML content, including pipelines, Jupyter notebooks, TensorFlow modules, and more," Sheth wrote. The idea is to make these kinds of tools and resources publicly available to all businesses, while also providing a private and secure location for organizations to share and upload such resources.
The AI Hub will also help to foster greater collaboration between data scientists, developers and machine learning engineers, Sheth said in an interview with SiliconANGLE.
"A lot of the work data scientists do never sees the light of day, [because] machine learning is a team sport," Sheth said. "For example, you need a data engineer on the front end to get data into the right format. But on the back end, a data engineer is needed to get it into production."
The need for greater collaboration also explains why Google is introducing Kubeflow Pipelines for Kubeflow, which is software that packages machine learning code so it can be reused by others within an organization. Kubeflow Pipelines enable developers to compose, deploy and manage these machine learning workflows from prototype to production. With it, developers can also tap into Google's machine learning framework TensorFlow and use its open-source libraries to fix issues such as model analysis and data validation that often cause problems with machine learning models in production.
Kubeflow Pipelines "make it easy for each person on the team to encapsulate their work in a pipeline," Sheth said. "So one benefit is you can snap components in and out very easily, in order to build new model without messing up everything else. This will make it much easier to orchestrate the end to end ML flow."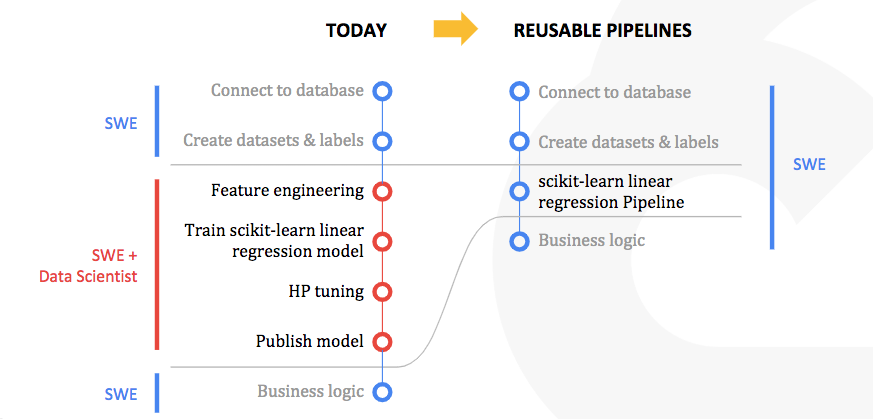 Another update is the beta release of three new features in Google's Cloud Video application programming interface, which is used to search and understand the content of videos. The API now comes with Text Detection capabilities that can be used to determine when and where text appears in a video, making such content easier to search. The second new feature is Object Tracking, used to identify more than 500 types of objects. Finally Google has added Speech Transcription, making it simple to transcribe audio from videos and create captions or subtitles.
Finally, Google has announced pricing and general availability of its V2 Tensor Processing Units. These are specialized processors hosted in Google's cloud that vastly accelerate machine learning workloads. Google is also making PyTorch, a machine learning framework that rivals its own TensorFlow, available to use with its TPUs.
Analyst Holger Mueller of Constellation Research Inc. said that Google's decision to enable PyTorch on its TPUs is big news because it means it's effectively embracing TensorFlow's biggest competitor.
"It allows a mix and match of different AI techniques," he said. "It also gives Google a hard differentiator, as competitors such as AWS and Microsoft haven't come up with any recent ML or AI hardware that jumpstarts their own respective AI offerings."
As for the other updates, these show that the "race is on" to enable businesses to build their own AI applications, Mueller said. That's because business users need to validate their AI apps and make sure they're comfortable using them first, before putting them into production.
"People tend to trust what they have built, no matter if it's a developer, a data scientist or a simple business user," Mueller said.
With reporting from Robert Hof
Images: Google
---
Since you're here …
… We'd like to tell you about our mission and how you can help us fulfill it. SiliconANGLE Media Inc.'s business model is based on the intrinsic value of the content, not advertising. Unlike many online publications, we don't have a paywall or run banner advertising, because we want to keep our journalism open, without influence or the need to chase traffic.
The journalism, reporting and commentary on SiliconANGLE — along with live, unscripted video from our Silicon Valley studio and globe-trotting video teams at theCUBE — take a lot of hard work, time and money. Keeping the quality high requires the support of sponsors who are aligned with our vision of ad-free journalism content.
If you like the reporting, video interviews and other ad-free content here, please take a moment to check out a sample of the video content supported by our sponsors, tweet your support, and keep coming back to SiliconANGLE.
Zoomd Reports